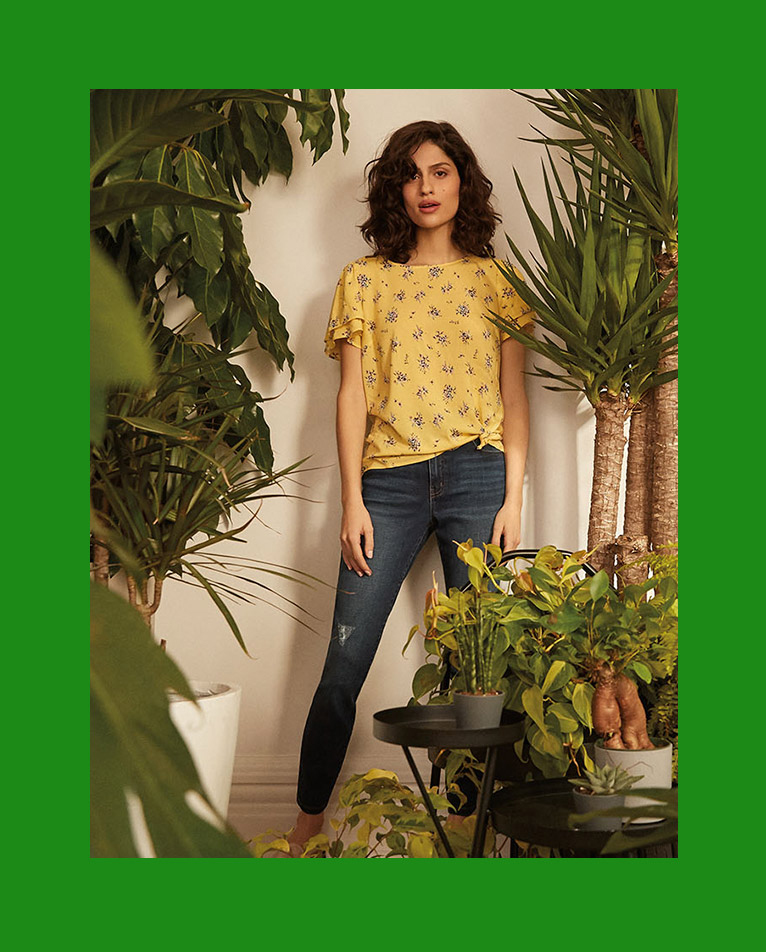 Reitmans is working every day toward a bright future, one step at a time. Sometimes, steps can feel small, but each one of them is extremely important and part of a bigger picture. We believe that by making changes, no matter how big or small they appear, we can have a positive impact and leave behind a legacy we can be proud of.
We might not be perfect, but we're continuously working to improve. Over the years, we have changed the way we work, created new products, implanted new strategies and processes. All that with one goal in mind: becoming the best we can be.
Interested? Scroll down to learn all about it!

Follow our sustainability journey
STEP 1:
INTRODUCING
THE BETTER
SHOP™
By using less water, less chemicals, and more recycled materials, Reitmans is taking important steps toward creating healthier, more conscious fashion.
Featuring lively must-haves, from tops to bottoms, you'll love these vibrant and comfortable pieces. A collection made to feel good and do good.
Just the beginning
Clothes from our Better Shop are made with a blend of responsible and recycled fabrics such as organic cotton, recycled polyester, textile wastes and more. This has many benefits, for example, the use of recycled polyester reduces the carbon emissions compared to virgin materials.
The goal we are striving toward is to have 40% of our products made with responsible materials by the end of 2022.
Wondering how to identify these products? Look for our Responsible logo when you shop. Clothes with this tag are part of our Better Shop.

What makes this collection better for the environment?
STEP 2:
SAYING
GOODBYE

TO PLASTIC!
Did you know that 4 trillion plastic bags are used annually worldwide and that most of them are being thrown away? This absolutely has to change.
Since 2020, Reitmans completely stopped producing single-use plastic shopping bags for our stores. We hope to deplete the shopping bags left by the end of 2021.
Scroll down to learn more about the measures Reitmans is taking to reduce plastic waste.

Reducing plastic waste in stores
Trying to reduce your plastic consumption? Say hello to better alternatives that are good for our planet
and will look good on you:
RECYCLED
POLYESTER BAG
Reusable, recycled and packable, these
bags are the perfect shopping companion.
Made of 100% recycled polyester, they can
even fold up into a little square.
Available in-store and online at $3.90.
shop bags
COTTON BAGS
Made with 100% cotton, these are light,
unfussy and easy to style. Get one in-store this spring for just 1$.
GIFT CARDS
All of our plastic gift cards have been
Feel good about giving!
replaced with gift cards made of 100% recycled paper.
shop gift cards
LESS PACKAGING, MORE LOVE
To reduce our carbon emission and give you a much
more pleasant online shopping experience:
We've been using packaging made of recycled
plastic (PE) since Fall 2020. By the end of 2021, we will completely switch to 100% recycled packaging.
When possible, we want to get rid of any
unnecessary single-use plastic packaging for wrapping individual items. Instead, we're trying to find better and more sustainable ways to protect delicate items in your orders.
STEP 3:
HEAD OFFICE
EFFORTS
Change starts with us. At our head office, where about 600 of us work, we've joined forces and started taking action toward a more sustainable environment. We're committed to make every step count.
1.
We've eliminated single-use plastic bottles, revamped our water fountains and introduced the H2O station.
2.
Our cafeteria Jacks Bistro and Cafe26 only carry entirely compostable cups, cutlery and take-out boxes.
3.
Saving paper with our Printer Optimization Project to reduce the number of printed documents.
4.
Thanks to our Lighting Optimization Program, we have reduced our energy consumption in about 130 of our Reitmans, Penningtons and RW&CO. stores to date by switching to LED lights. In 2020, this initiative has allowed us to decrease our energy consumption (in kWh) in stores by 31% compared to 2018. In addition, this Program has been implemented at our Distribution Centre, which is also equipped with motion sensors in the aisles.
We're not done yet!
From our Better Shop to our efforts to reduce plastic, every step counts and we're working hard to make a difference. We're just getting started and we're not planning on stopping there. We hope we inspired you!
Discover R-Community's Style Picks