Hyba Zip Hoodie
Wear this cozy Hyba hoodie before, during and after your workouts. Featuring a drawstring hood, front pockets for your essentials and front zip fastening, it also makes a great layering buddy.
We love it for: gym, outdoor walk, everyday wear
71% polyester, 14% viscose, 15% cotton
Imported
Long raglan sleeves
Ribbed waistband and cuffs
Machine wash, inside out, cold water, gentle cycle. Wash similar colors together.
Do not bleach.
Dry flat and reshape while still wet.
Iron at low setting on reverse side.
Do not dry clean.
Hyba Tops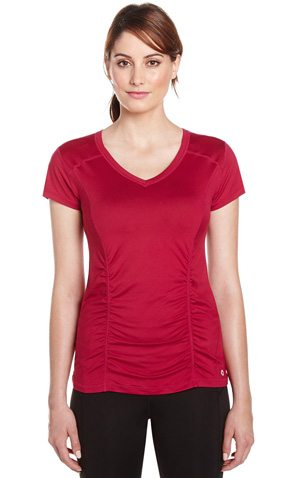 Chest

Measure under your arms at the fullest part of your bust.

Waist

Measure around the narrowest part of your waist.

Hips

Stand with your feet together and measure around the fullest part of your hips.
Chest

Measure under your arms at the fullest part of your bust.

Waist

Measure around the narrowest part of your waist.

Hips

Stand with your feet together and measure around the fullest part of your hips.
All sizes are in inchescentimeters. View in centimetersView in inches.
Size
Chest
Waist
Hips
XS

33.5

85

27

68.5

36

91.5

S

35.5

90

29

73.5

38

96.5

M

37.5

95

31

78.5

40

101

L

40.5

103

34

86.5

43

109

XL

42.5

108

36

91.5

45

112

XXL

44.5

113

39

99

47

119.5

2X

46.5

118

41.5

105.5

49

124.5

Extended sizes
3X

50.5

128

45

114.5

53

134.5
Ratings & Reviews
excellent hoodie, pilling happened, but very easy to fix
I love this hoodie, yes, I noticed that after a couple of washes it did pill a fair amount under the arms, wrists (where the fabric would rub), but I took my sweater "de-fuzzer" bought from the drugstore for $10 (which I've gotten so much use out of) and I ran it over the pilled areas to remove the pills, and the hoodie looks new again (and it did not pill so much afterwards). So I'm thinking maybe having to use the de-fuzzer one more time on it and that would be it. The hoodie is comfy, the perfect weight for both summer and fall, love the orchid colour too! Goes with so much and is flattering to most skin tones. Would definitely buy again if it were still available.
solstice
Victoria
I would buy this product again
This is my second purchase of this sweatshirt. Very well made, details in construction are impeccable, love the orchid colour.
Vivan
Lasalle, Ontario
A great hoodie. I bought it because it's not to heavy but not too light weight. It's a hoodie that can be warn all year. Light enough for a cooler summer evening and but still good for winter/fall if you layer it. It fits true to size.
Kimmy
London ON
I thought this as a pretty addition to my normal mom uniform to be used to running errands taking the kids to school parks Adventures excetera. I'm sad to report that after washing the delicate cycle inside out and hanging to dry the fabric has also pilled everywhere. I purchased the sweater in Orchid and the color was so bright and vibrant I was in love the second I put it on but the color has also faded it is more muted now after two washes and where's with no drying in a dryer. On a positive note this is still as comfy and soft as the day I bought it 2 weeks ago in the fit of the sweater seems to be holding up. I read the other reviews and see I'm not alone. Regretfully my sweater now looks like it's a well-worn piece after only two delicate washes and only owning the peace 2 weeks.
In love with Orchids
Chatham Ontario
Like all Hyba tops, this hoodie is no exception to the wear it once and watch it fall it apart rule. I love the color but after several washes this hoodie looks like I purchased it two years ago as opposed to two months ago. The quality is so poor!! Do not waste your money.
RoxyRoller
Calgary, Alberta
I totally agree with the two previous reviewers and thanks for your warnings ladies. I bought the hoodie, then read the reviews, and before I cut the tag off I thought I would wear the hoodie around the house for a couple of hours to see if the reviews were maybe exaggerated ... And they were NOT! In two hours the hoodie started pilling! I was not working out or doing anything active... Just wearing the sweatshirt while watching TV and having a cup of tea. Back it goes , and I was very disappointed that for the price I paid, it barely lasted a few hours without looking old!
Shopper7890
Brampton, ontario
Bought this sweater wore it twice with out washing and it was all pilled under the arms and the front. Returned it . Do not purchase this top.
Dissapointed
Vancouver
Cheap material... would not buy again
I ordered this hoodie online and received it last week. I have worn the sweater two times without washing it, it is covered in piling on the arms and front. For this price point I would expect to have a quality piece that wouldn't pile so quickly. I have now washed it according to the tag and looks even worse.
N/A
Woodstock, On