Hyba Zip High-Support Sports Bra
https://www.reitmans.com/en/hyba-zip-high-support-sports-bra/401216.html
$59.90
This functional Hyba Zip Sports Bra will totally save you from the dreaded task of pulling your bra over your head after a sweaty workout. Designed to provide the perfect fit and deliver the ideal amount of support, it's great for any high-impact activity. Enjoy optimal breathability thanks to its power mesh lining!
We love it for: gym, running, kickboxing
82% polyester, 18% elastane
Imported
Molded cups with wire
Reinforced adjustable straps
Front zip fastening with inside hook
Moisture-wicking fabric to keep you dry
Hand wash, lukewarm water. Wash similar colors together.
Do not bleach.
Hang to dry.
Do not iron.
Dry clean.
Hyba Sport Bras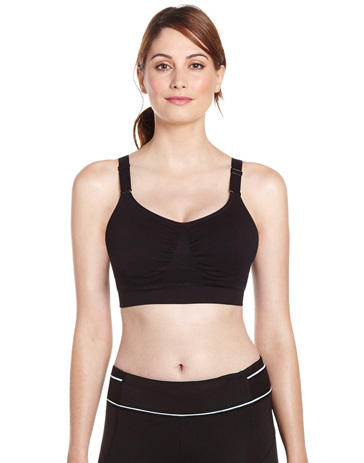 Chest

Measure under your arms at the fullest part of your bust.
Chest

Measure under your arms at the fullest part of your bust.
All sizes are in inchescentimeters. View in centimetersView in inches.
Size
Chest
Waist
Hips
XS

33.5

85

27

68.5

36

91.5

S

35.5

90

29

73.5

38

96.5

M

37.5

95

31

78.5

40

101

L

40.5

103

34

86.5

43

109

XL

42.5

108

36

91.5

45

112

XXL

44.5

113

39

99

47

119.5

2X

46.5

118

41.5

105.5

49

124.5

Extended sizes
3X

50.5

128

45

114.5

53

134.5
Ratings & Reviews
I love how you can easily put this on due to the front zipper & clasp design, with the adjustable hooks at the back. This sports bra runs big for me as I ordered this in my usual Hyba sports bra size (small), but oddly it was way too loose so I had to return, in-store did not carry this bra so I couldn't try on a smaller size and exchange, and also because I was more looking for a bra within a bra design and this wasn't it.
Linny212
Vancouver, BC
I would buy this product again
Purchased this via online order. Tried to try the sports bra in a number of rietmans retail stores to see how it would fit, they were always sold out Finally ordered 2 in the pink and black because of the reviews. I love the fit!! Firm support adjusts at the back and shoulders for a great fit. Love the zip feature and clasp under the zip. Have not had a problem with the zip coming undone. Yes one can see the zipper under your tee but the tee comes off when I'm doing yoga. If your looking for a firm control sports bra that is flattering! This is it!!
J
Duncan BC
I love the style but unfortunately I had to return it. It was really tight and the cut around the armpit area dug into my skin and the back of the bra felt very uncomfortable. If you're wearing a tank top, the bra will definitely show under it. It was high impact but since I am a size 32DD, it was hard to breathe and my breasts felt very squished. Great for those with smaller chests.
Mica
Ottawa
I love the fit and comfort of this bra and I don't have to pull a sweaty bra over my head after my run or workout. So happy to finally find a fully adjustable front closure bra! I love that it adjusts both on the shoulder straps and at the back for width so that if it happens to stretch out a bit, I can just adjust it down to the next closures. I have never once had a problem with it coming undone and don't give that a second that with the double front closure of both the slide clip and the zipper. Yes, the zipper does show a bit through a t-shirt, but I wear this to work out so it doesn't matter. (although it's so comfortable I've worn it all day sometimes). Love it!!
rubicurls
Victoria, BC
I have limited mobility in my arms and having a zip front makes it so easy to slip on and off. Quality and fabric are excellent as there is no 'chaffing' under the arms which I have found on lesser quality sports bras. Support is great and so comfortable. Wish I had purchased this sooner.
Bnabum
Edmonton
Love the support, hate the zipper.
When I bought this, I tried it on and it fit great, however I didn't try a shirt over it. Now that I have it, you can see the zipper through any shirt that you wear and I find that I'm self conscious about it. Wish there was a little tab to hide the zipper under. I also find that the more I wear it, the more it stretches and doesn't quite look and feel the same as it did at the beginning.
Charlie
Ontario
I would buy another one of these
Great for high impact zumba
Lin
ON
I would have liked to give this a better rating, however the underwire in the bra is a deal breaker. Does it support you through a workout, yes. Do you feel the underwire the entire time, yes you do. I would not recommend bouncing around in this number.
WickedWitchofHR
Calgary, AB
I'm going buy every colour.
I wear a 40DD regularly, it's really hard to find sports bras with support. I can workout without my tatas moving. With the inner clip, I don't fear that everything is going to come undone.
KaayMaarie
Hamilton, ON
Maybe more for show than real exercise?
Nice colour, nice feel but I had troubles working the zipper. For me, I had to close the clasp first, and then zip up. I also found that the zipper was 1/3 of the way undone after my run. I agree with previous review that the zipper toggle shows through shirts. Bra worked reasonably well when I was running, but there's a lot of skin showing up top. I prefer more compression and coverage. This might be more lift and squeeze. Certainly makes a bosom look good!
5kmrunner
Vancouver, BC
Hyba Zip High-Support Sports Bra
72.7