Hooded Parka
Perfect for the chilly season, this hooded parka is just what you need. Featuring big pockets and a hidden zipper, it is definitely a must-have! Pair the solid-coloured parka with a colourful scarf for extra comfort and style.
Body: 89% polyester, 10% viscose, 1% elastane Lining: 82% polyester, 18% cotton
Imported
Dry clean only.
Outerwear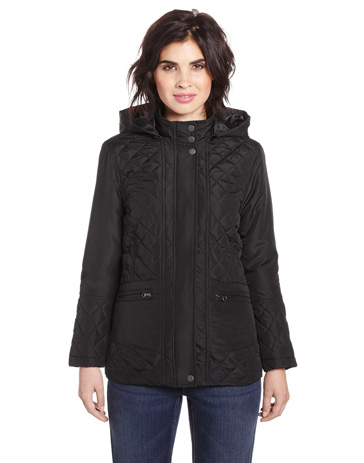 Chest

Measure under your arms at the fullest part of your bust.

Waist

Measure around the narrowest part of your waist.

Hips

Stand with your feet together and measure around the fullest part of your hips.
Chest

Measure under your arms at the fullest part of your bust.

Waist

Measure around the narrowest part of your waist.

Hips

Stand with your feet together and measure around the fullest part of your hips.
All sizes are in inchescentimeters. View in centimetersView in inches.
Size
Chest
Waist
Hips
XXS

31.5

80

25

63.5

34

86.5

XS

33.5

85

27

68.5

36

91.5

S

35.5

90

29

74

38

96.5

M

37.5

95.5

31

78.5

40

101.5

L

40.5

103

34

86.5

43

109

XL

42.5

108

36

91.5

45

114

XXL

44.5

113

39

99

47

119.5

2X

46.5

118

41.5

105.5

49

124.5

3X

49.5

125.5

44.5

113

52

132
Size
Chest
Waist
Hips
0

32.5

82.5

26

66.0

35

89.0

2

33.5

85.0

27

68.5

36

91.5

4

34.5

87.5

28

71

37

94

6

35.5

90

29

73.5

38

96.5

8

36.5

92.5

30

76

39

99

10

37.5

95

31

78.5

40

101.5

12

39

99

32.5

82.5

41.5

105.5

14

40.5

103

34

86.5

43

109

16

42

106.5

35.5

90

44.5

113

18

44

112

38.5

98

46.5

118

20

46.5

118

41.5

105.5

49

124.5

22

49.5

125.5

44.5

113

52

132
Ratings & Reviews
Love the jacket and it was a great orice
I love the style..colour and the material of the jacket. .especially the lining..I referred my friend and she bought one too...it's warm
Melova
Scarborough
just what I wanted
pitu
Hamilton, ON
Love this coat at first but material began to pill around the cuffs and front of jacket after three weeks of wear. Comfortable but poor fabric! Disappointed!
Iluv14
Lively, Ontario
This jacket is very slimming on me! It fits really well everywhere except the sleeves are a tad too short and the shoulders are a tad tight! But I'm tall so that's usually the case..
Shdb
Nova scotia
I read all the reviews before ordering, and it sounded like it fit small, so I ordered both the L and the XL. I loved the look of the coat, but neither one fit. The L was too tight in the waist, and the XL wasn't much better, except sleeves were too long and because it was too large overall, it just didn't fit correctly. Both were too snug across the back of the shoulders. One of them should have fit, but unfortunately I had to return both of them. I liked everything about the coat, but don't understand why neither one fit when I'm usually an L. I really didn't eat that much shortbread this Christmas! On the positive side, ordering online was easy and both coats came within a few days. Returning them in-store was very easy. PS - the hood is not removable. I had hoped to wear this coat to and from work, in my car. I didn't need it to be super-sub-zero. I think it would have been fine, warmth-wise.
Wryter
Stouffville, Ontario
Beautiful, but not worth it.
It's a beautiful jacket, it's a great colour, great fit, classy and timeless. Just, not worth the money. It's not a wool blend. There isn't wool in the jacket, it's advertised as such in stores, but its acrylic. It pills like the dickens, and picks up everything! It pills and picks, and you have to clean it everyday. It's awfully annoying. I spend time just pulling away the pilling, and I don't want to do that. I had this jacket for about a week and a half. I have it a chance, and it looked really old and worn out by the end of it. It's a great jacket, and I love everything about it except the material it is made of. I love the weight of the jacket too. It isn't super warm though, you definitely need to layer it. It is good for the shoulder seasons, but not winter. I was very disappointed with this purchase. I work just above min. wage, so when I am purchasing clothes I try to buy nice not twice. I go to Reitmans when I need nice pants, or shirts for work. They're usually good, some misses here and there but reliable and nice lasting, classy clothes. I don't write reviews for clothing unless I'm extremely Happy with a purchase or extremely Disappointed with one. Reitmans, you had a good one there but wrong type of material. Try again?
Katrina
Victoria, BC
I know it's beautiful, but do not purchase.
I'm in LOVE with the design, the colour, the weight... everything! Except the material it's made of. It was advertised in store as a "wool" blend, but there is no wool in it. It's Acrylic, and it pills like the dickens. It picks up EVERYTHING and pills. I had it for about a week and a half and it looked old. I had to constantly clean it, and pick off the pilling. It also wasn't really that warm of a jacket, I wore sweaters underneath and Victoria isn't even cold. Maybe it's better for fall, around the shoulder season. It's a good layer piece! Reitmans. I love this jacket, the colour and the fit. Very classy and timeless, but the material is awful. I'd also suggest your stores do not advertise it as a wool blend, it is misleading. It isn't honestly even worth the sale price sadly. I bought a jacket that's actually got wool in it for $60 somewhere else, and it was originally $150, so I hate to direct otherwise but that's the truth. Reitmans has good clothing, I won't stop buying things there though. Just disappointed :(
Trina
Victoria, BC
Fits small- but it's nice.
I was about to buy this coat last night, I had it in my basket and everything; however, I read the reviews to see what people were saying. and waited. A few people said that the coat was fitting small. Since I have a Reitmans in my city, I figured I would go try it on today before I ordered it ( I had R cash that I was ONLY allowed to use online... which is a terrible system in itself). Anyhow, I went to go try it on myself this afternoon... and yes it fits quite tight and small. If you are a L, go XL, if XL go XXL. The arms are stiff and tight to move your armpits, move arms forward. I am disappointed in how small this coat is... it was one of those, "maybe if laid down on my bed and zipped it up" type of moments. I had to try on the next size up and even then it was snug in some areas. If you often bounce between sizes " depending" on the store... because hey, we all have those moments...definitely go the next size up. If you have a large chest/bust... go a size up. It was a bummer, I really wanted to get this coat, but its just not in the cards. Oh and the fabric is that peacoat wool-ish blend- FYI.
SummerF
Frederiction
Good fit. Goes just past your butt. Really like it
J
Sask
Perfect coat for dressing up a little to go shopping from your car to the store etc. very versatile
Odie
Newfoundland Canada