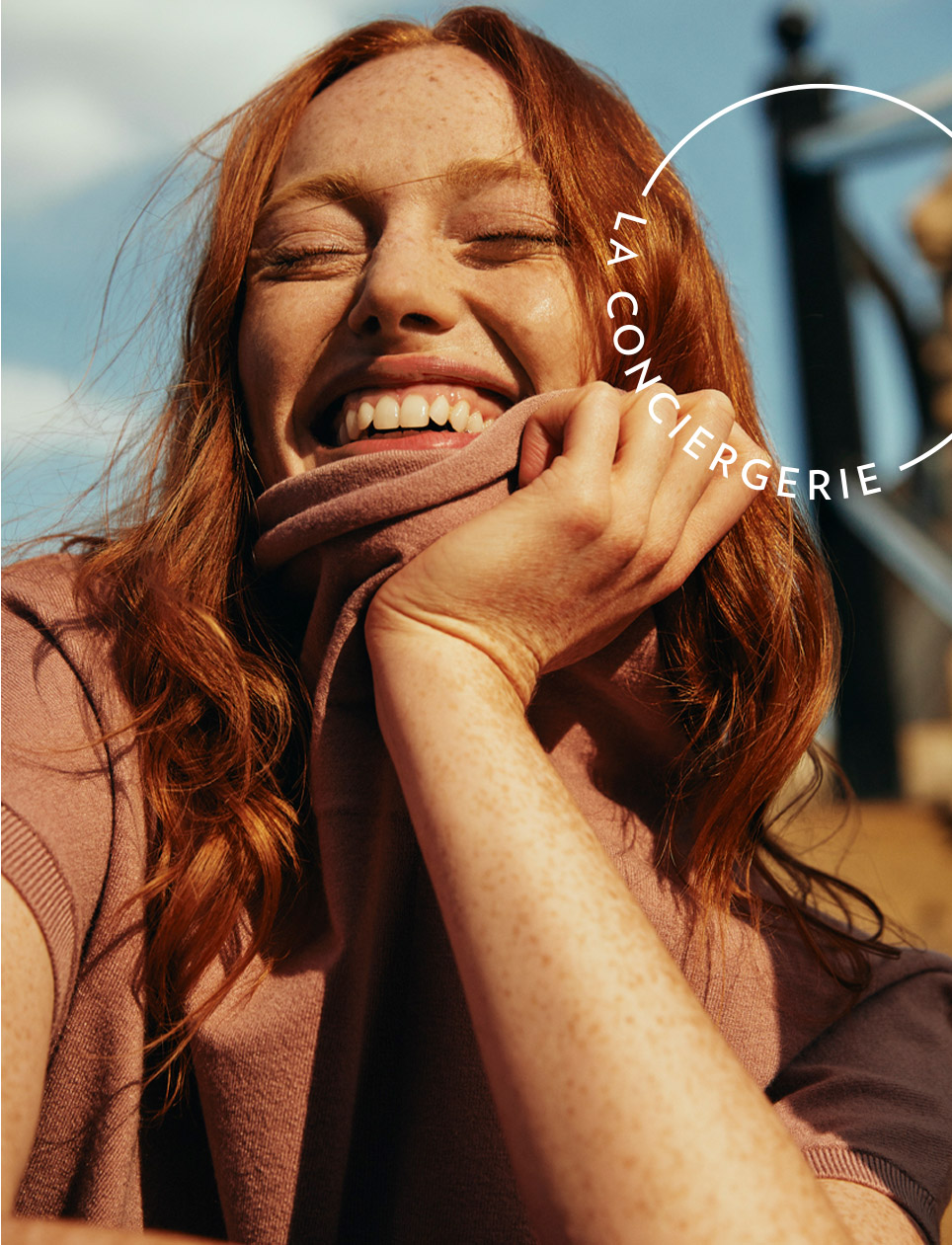 At your service
La Conciergerie was launched to offer a personalized service that meets your expectations.
A good concierge knows how to adapt to changing needs and new realities.
This is why we are diversifying our services while maintaining the higheststandards.
We'd like to introduce you to our newest option: Reserve online, pay in-store.
Learn More
*Available in select stores only.
Reserve online, pay in-store
Why reserve online?
The availability of your items are guaranteed before you go in-store, you avoid shipping delays, and it's simple and free!
In addition, your in-store visit will be that much quicker while ensuring limited contact.
How it works:
Add your
desired items* to
your wish list
Click on your wish
list and choose the
"Reserve in-store"
option
Login or create an
account
Choose your closest
store & preferred time
for pick-up

You'll receive an
email within 24 hours
confirming the
available products from
your wish list
Visit your preferred
store at the
selected time, pay
and bring your items back home!
Reserve your items
*This service is offered for regular-priced items only as availability of sale styles cannot be guaranteed.
FAQ
How much does this service cost?
This service is free. You only pay for the styles that you wish to keep once arriving in-store.
Where is this service available?
You will find a list of the stores where this service is offered below.
When can I make an appointment to pick up in-store?
There is a wide range of hours offered for in-store pick up. Be sure to visit your wish list after choosing your items, and click on "Reserve in-store" to see available times
How far in advance do I need to make my appointment?
Appointments for pick up must be booked at least 24 hours in advance.
What can I expect when I get there?
The items you had selected online will be put aside for you. Present yourself to a store associate and let them know you are picking up an order and they will give your available items.
Can I reserve any item from online?
Only current season styles can be reserved. Any styles that are in the sale section cannot be guaranteed at this time.
Is it still possible to make an appointment for an in-store personalized styling session?
Unfortunately, due to COVID-19, all in-store personalized styling sessions are currently unavailable.
Available in select stores only.
Find a store near you
Reserve your items
Smart Centres Saint-Constant
520 Voie de la Desserte,Rte132,Loc 500
Saint-Constant, QC, L1J 2K5

Complexe Pointe-Claire
6361 Route Transcanadienne, Unit 101
Pointe-Claire, QC, H9R 5A5

Smart Centres Valleyfield
2100 boul. Monseigneur-Langlois
Salaberry-de-Valleyfield, QC, J6S 5R1

Place Fleury
1757 rue Fleury Est
Montréal, QC, H2C 1T3

Carrefour Trois-Rivières Ouest
4600 boul. Des Recollets
Trois-Rivières, QC, G9A 0A1

RioCan La Gappe
79, boulevard de la Gappe, Unit 1
Gatineau, QC, J8T 0B5

Méga Centre Rive-Sud
625 rue de la Concorde, Unit A20
Lévis, QC, G6W 0A9

Méga Centre Lebourgneuf
200, rue Bouvier, Unit 3D, Suite 400
Québec, QC, G2J 1R8

Méga Centre Sainte Foy
1493 rue Jules Verne
Québec, QC, G2G 2R8

Laurier Québec
2700 boul. Laurier, #460
Québec, QC, G1V 2L8

Smart Centres Victoriaville
240 boul. Arthabaska Ouest
Victoriaville, QC, G6S 0P2

Smart Centres Mascouche
127 Montée Masson
Mascouche, QC, J7K 3B4

Smart Centres Laval Ouest
620 Desserte Ouest. - Autoroute
Chomedey, Laval, QC, H7X 3S9

Quartier Dix 30
9355, boul. Leduc, Suite 20
Brossard, QC, J4Y 0A5

Smart Centres Rimouski
397 Montée Industrielle-et-Commerciale
Rimouski, QC, G5M 1Y1

Les Galeries de Lanaudière
508 Montée des Pionniers
Terrebonne, QC, J6V 1N9

Smart Centres Drummondville
1025 René-Levesque, Suite 200
Drummondville, QC, J2C 7V4

Place Ste-Foy
2450 boul. Laurier, Unit 042
Québec, QC, G1V 2L1

Faubourg de la Gare Vaudreuil
3080 boul. de la Gare
Vaudreuil-Dorion, QC, J7V 0H1

Marché Central
1007 rue du Marche Central, Unit #B-2
Montréal, QC, H4N 1J8

Pembroke Street East
1108C Pembroke Street East
Pembroke, ON, K8A 8P7

Smart Centres Burlington N & NE
4515 Dundas Street, Unit 8
Burlington, ON, L7M 5B4

Smart Centres Oakville
202 Oak Walk Drive, Unit K1.2
Oakville, ON, L6H 0H4

Thames-Lea Plaza
607 Grand Avenue West
Chatham, ON, N7L 1C5

Smart Centres Scarborough
1900 Eglinton Avenue E., Unit G1
Scarborough, ON, M1L 2L9

Smart Centres Scarborough
1900 Eglinton Avenue E., Unit G1
Scarborough, ON, M1L 2L9

RioCan Fairgrounds
95 First Street, Unit G5
Orangeville, ON, L9W 2E8

Smart Centres London East
340 Clarke Road, Unit J4
London, ON, N5W 5G1

Southgate Centre
#336, 5015 - 111 Street NW
Edmonton, AB, T6H 4M6

Mayfield Common
322 Mayfield Common NW
Edmonton, AB, T5P 4B3

South Edmonton Common
1927 - 99th, Street N.W.
Edmonton, AB, T6N 1M7

Leduc Common
5309 Discovery Way
Leduc, AB, T9E 8N4

Sunridge Mall
2525 - 36th Street NE, Unit 138
Calgary, AB, T1Y 5T4

Shawnessy Towne Centre
#510 - 85 Shawville Blvd. S.E.
Calgary, AB, T2Y 3W5

Beacon Hill Centre
11698 Sarcee Trail NW, Unit F5
Calgary, AB, T3R 0A1

Sierra Springs
2781 Main Street SW, Unit 120
Airdrie, AB, T4B 3S6

Guildford Town Centre
1045,10355 -152nd Street
Surrey, BC, V3R 7C1

West Oaks Mall
32700 South Fraser Way, Unit #55
Abbotsford, BC, V2T 4M5

Ironwood Plaza
11680 Steveston Hwy, Unit 5000
Richmond, BC, V7A 1N6

Smart Centres Langley
20202 - 66th Avenue, Unit 390
Langley, BC, V2Y 1P3

South Point Exchange
3091 - 152nd Street, Unit 330
Surrey, BC, V4P 3K1
604-538-8828

Meadowtown Centre
950 - 19800 Lougheed Highway
Pitt Meadows, BC, V3Y 2W1

Chilliwack Mall
45610 Luckakuck Way, Unit 1023
Chilliwack, BC, V2R 1A1

Mayfair Shopping Centre
3147 Douglas St., Unit 279
Victoria, BC, V8Z 6E3

Westshore Town Centre
2945 Jacklin Road, Unit 182
Victoria, BC, V9B 5E3

St. Vital Centre
1225 St. Mary's Rd, Unit 76B
Winnipeg, MB, R2M 5E5

Polo Festival
675 Empress Street, Unit #1
Winnipeg, MB, R3G 3P7

Crossroads Station Shopping Centre
1592 Regent Ave. W., Unit 3
Winnipeg, MB, R2C 3B4

St. Anne Street Plaza
930 St. Anne Street
Bathurst, NB, E2A 6X2

Halifax Bayers Lake Centre
212 Chain Lake Drive, Unit 3
Halifax, NS, B3S 1C5